FFD Fashion News Roundup 23/5/18
| Interview Magazine Folds, Matchesfashion Soars, Feather wearing ethics, Stuart Weitzman exits Tapestry and Patriarchy Rules the Industry
---
This week we've been talking about international fashion weeks, juggling babies and business, and the downsides of denim. But what have we been reading about? Here are the top five fashion news headlines from around the web!
---
Another print publication is coming to an end. On Monday morning came reports that Interview Magazine has folded, according to announcements made on social media by those on staff. Since its launch in 1969 by Andy Warhol, Interview has been known for its extensive coverage of fashion, film, art and music, as well as many visually striking covers.
---
Despite its reputation as a female-oriented industry, a new study finds that fashion is still run by men. The study, titled, "The Glass Runway," is set to be released this week by the Council of Fashion Designers of America, Glamour, and McKinsey & Company. 191 fashion companies participated in the survey, spanning retail, creative, and corporate sides. Five-hundred thirty-five people filled it out. Continuing a pattern seen in other industries, the study found that there is very little ambition gap among male and female fashion students, and that more fashion students are women at most design schools. However, only 14 percent of major brands are run by a woman.
---
See Also
On Monday, the London-based fashion site reported a major development on that front: In the 12 months leading up to January 31, 2018, Matchesfashion saw full-year revenues increase 44 percent to £293 million, with EBITDA also up 37 percent to £26 million. Much of this boost, Matchesfashion states, was due to its international expansion; mainly, its growth in the U.S. Stateside sales led globally, seeing a 54-percent increase year-over-year, making it Matchesfashion's largest country by revenue. This is especially noteworthy when considering that 82 percent of the retailer's online business was generated outside of its UK homebase.
---
Less than four months after presenting his first full collection for American shoe brand Stuart Weitzman, creative director Giovanni Morelli is out. In a statement from its parent company Tapestry, formerly known as Coach Inc., chief executive Victor Luis said Morelli violated company policies. This isn't the first time Stuart Weitzman has had to deal with inappropriate behaviour. In January, after reports of sexual misconduct by photographer Mario Testino were published by the New York Times, the brand said it would stop working with him on its campaigns.
---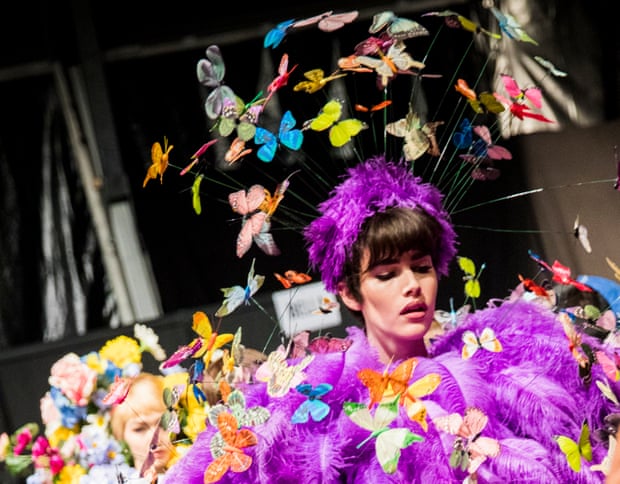 eathers are suddenly everywhere again – not only in the wardrobes of glossy style icons, but also on embellished fascinators (as worn by the Duchess of Cornwall at the royal wedding) and in a sizeable proportion of the nation's pillows, parkas and duvets. Yet, in some quarters, there is a growing discomfort with them.